News — EncaustiKolors
Posted by Bethany Handfield on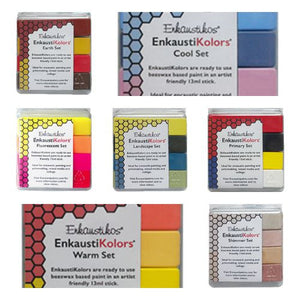 To celebrate the blossoming colors of spring we are celebrating with a sale on Enkaustikos EnkaustiKolors paint sets.  These perfectly matched color sets are a great introduction to the Enkaustikos product line. They are richly pigmented and easy to use. Each set contains 4 bars of encaustic paint. They are easy to mix with each other or extend with medium. I love the Landscape and Shimmer sets - though they are all so gorgeous it is hard to chose just one! Until the end of April all Encaustic Art stamps are 20% off. Please use the code: ASTAMP2016 at checkout to...
Posted by Bethany Handfield on
See all the great new products that we have in store!  Use coupon code: HAPPYMAY2015 to get $5 off all orders over $35 Offer code expires May 31, 2015
Posted by Bethany Handfield on
We are so excited to be carrying these new products from Enkaustikos. Please check back soon as we will be adding more. If there is a specific Enkaustikos product that you are interested in, please contact us regarding availability.